WITH THE FIRST INSTALLMENT OF BLEEDSILVERANDBLACK.COM's INTERVIEW SERIES
"INTERVIEWS FROM WITHIN THE NATION"
TEDDAWG MEETS UP WITH PETE aka "HI ROLLER RAIDER"
HI ROLLER RAIDER IS WELL KNOWN WITHIN THE RAIDER NATION AND THE CAR SHOW WORLD. AFTER A RECENT EXPLOSION ONTO THE CAR SHOW SCENE HI ROLLER HAS TAKEN 5 TROPHIES FROM HIS FIRST 4 CAR SHOWS. WITH HIS PASSION AND DEDICATION FOR THE RAIDERS AND RAIDER NATION HE HAS BUILT A ONE OF A KIND RAIDER TRUCK. TEDDAWG MET UP WITH PETE ON MAY 25th, 2007, ONE WEEK BEFORE THE SAN DIEGO LOWRIDER CAR SHOW AND DISCUSSES HIS TRUCK, THE RAIDERS, THE RAIDER NATION, HIS JOURNEY WHILE BUILDING HIS 4x4 TRUCK, AND HIS FAMILY.
---

HOW LONG HAVE YOU BEEN A RAIDER FAN?
SINCE I WAS BORN BRO... BEEN A RAIDER FAN ALL MY LIFE. THATS ALL I KNOW. I REMEMBER GOING TO THE GAMES AS A YOUNGSTER DOWN IN L.A.
WHO IS YOUR FAVORITE PLAYER PAST OR PRESENT?
LYLE ALZADO
WHO DO YOU LIKE NOW THAT IS ON THE TEAM?
WARREN SAPP. TWO MONTHS FIFTY POUNDS... THAT'S AMAZING MAN!
HAVE YOU EVER INSPIRED ANYONE TO BECOME A RAIDER FAN?
MY WIFE. YOU KNOW YOU HEAR THAT... "MY HUSBAND'S A RAIDER FAN SO I'M A RAIDER FAN."
NAW MAN... SHE SEES THE WAY WE ARE AND THE WAY WE ENJOY OURSELVES,
AND TO GET TOGETHER AND HAVE THESE PARTIES AND STUFF... IT'S FAMILY BRO... IT'S FAMILY.
WHAT WAS YOUR FAVORITE RAIDER MOMENT?
THERE ARE SO MANY THAT COME TO MIND. WHEN TIM BROWN CAUGHT THAT TOUCHDOWN IN DENVER AND THEY HAD A CELEBRATION FOR HIM.
HOW WOULD YOU DEFINE "RAIDER NATION"?
I HAVE TOO MANY IDEAS... BUT IT IS A WAY OF LIFE MAN. IT IS LIKE EVERYWHERE YOU GO THERE IS NOTHING BUT RAIDER FANS. EVERYWHERE...

ACROSS THE WORLD... WE'RE TALKING ABOUT THE WORLD... AND YOU SEE RAIDER FANS. I GET RAIDER LOVE FROM EVERYWHERE...

IT'S AMAZING... IT'S AMAZING.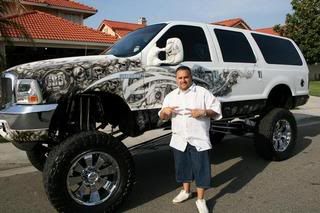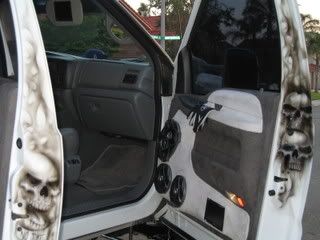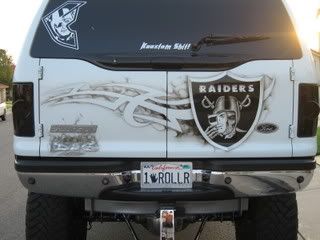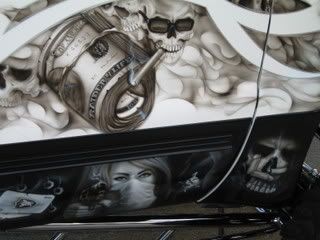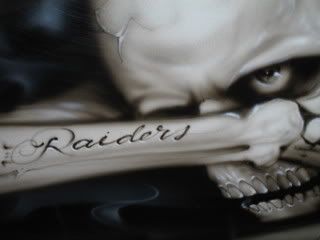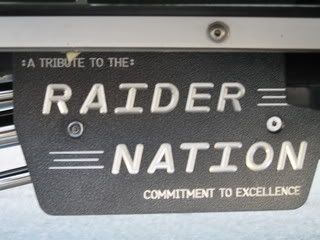 WHAT INSPIRED YOU TO MAKE YOUR TRUCK RAIDER THEMED?
YOU KNOW HONESTLY I STARTED OUT WITH JUST THE TRUCK, AND I MET THIS PAINTER AND I SAID I WOULD LIKE TO DO A COUPLE SKULLS AND I WANT TO ADD SOME RAIDER THEME TO IT. SO I DID AND IT WAS SOMETHING SIMPLE AND WHEN I GOT THE LOVE THAT I DID I SAID I HAVE TO CONTINUE THIS. I HAD NO IDEA BUILDING A RAIDER TRUCK WOULD BRING SO MUCH ATTENTION. I SWEAR EVERYWHERE I GO PEOPLE JUST STOP AND TAKE PICTURES. I'M DRIVING DOWN THE FREEWAY AND PEOPLE ARE VIDEO TAPING ME... TAKING PICTURES WITH THEIR CAMERA PHONE... STICKING THEIR HEAD OUT THE WINDOW... IT'S AMAZING BRO... IT'S AMAZING. IT IS A ONE OF A KIND MAN, BUT I AM GLAD THAT I CAN DO IT FOR MY RAIDER NATION. IF I COULD DO IT AGAIN I WOULD DO IT AGAIN... MAYBE ANOTHER VEHICLE MAN.
WHAT WAS THE FIRST RAIDER ITEM THAT YOU PUT ON THE TRUCK?
THE FIRST RAIDER PAINTING I PUT ON THE TRUCK WAS THE SHIELD ON THE BACK. MY WIFE SAID THAT SHE WANTED SOMETHING LIKE THE "SMILE NOW CRY LATER" WHERE THE GUY IS TAKING HIS FACE OFF AND HE HAS ANOTHER EVIL FACE UNDERNEATH. IT WAS HER IDEA AND I TOLD THE PAINTER. SO BASICALLY IT IS HER IDEA AND HIS DESIGN. HE GOT DOWN MAN I WAS REALLY IMPRESSED WITH THE OUTCOME. ME PERSONALLY, I'VE PERSONALLY MET AT LEAST 12 PEOPLE WITH THE TATTOO ALREADY. PEOPLE COME UP AND THEY SAY "I'VE NEVER SEEN YOUR TRUCK BEFORE BUT LOOK AT MY TATTOO." THEY HAD SEEN IT FROM SOMEONE ELSE'S PICTURES, CAMERA PHONE, OR SOMETHING.
HOW LONG HAS IT TAKEN YOU TO GET YOUR TRUCK WHERE IT IS TODAY?
TWO YEARS... IT IS A NEVER ENDING PROJECT. YOU ARE NEVER DONE. THERE IS ALWAYS SOMETHING NEW OUT THERE... THERE IS ALWAYS SOMETHING MORE TO ADD.
LIKE I SAID NEXT MONTH WE ARE GOING TO COME UP AND RE-DO SOME WORK UNDER THERE AND WE ARE GOING TO SEE SOME NEW STUFF BEFORE THE FIRST RAIDER GAME THIS YEAR.
IS THIS WHAT YOU INVISIONED YOUR TRUCK TO LOOK LIKE?
I THINK I AM WAY OVER DONE... BUT I WANT TO DO MORE. THE WAY I FEEL ABOUT IT AND PEOPLE MAKE ME FEEL... I WANT MORE.
HOW MANY SHOW TROPHIES HAVE YOU WALKED AWAY WITH?
I HAVE DONE FOUR SHOWS AND I'VE WON FIVE TROPHIES. I AM GOING TO GO TO AT LEAST FIVE MORE SHOWS BEFORE THE END OF THE YEAR. BIG SHOWS! HOPEFULLY I BRING FIRST PLACE HOME FOR EVERYTHING. BRING THEM HOME FOR THE FAMILY MAN!
AT WHAT EVENT DID YOU WIN YOUR FIRST TROPHY?
AT THE DUB SHOW IN MARCH IN L.A. AT THE CONVENTION CENTER ON MARCH 12th 2007. I WAS AMAZED. I WAS UP AGAINST SOME HARD STUFF AND I CAME OUT OUT WITH 1st PLACE FOR THE SUV AND 2nd PLACE FOR THE LIFTED TRUCK. SO I GOT TWO TROPHIES AT THAT ONE.
HOW DID YOU FEEL?
HONESTLY I ASKED VIDEO MIKE AND ONE OF MY BUDDIES TO GO LISTEN. I NEVER THOUGHT I WOULD WIN A TROPHY I THOUGHT I WAS UP AGAINST PEOPLE THAT... THE MONEY SOME OF THESE PEOPLE PUT INTO THEIR CARS MAN. I WOULD OF NEVER THOUGHT THAT I WOULD OF WON. HONESTLY I NEVER THOUGHT. BUT NOW... I WANT TO KEEP WINNING... I WANT TO KEEP WINNING. SO YEAH I WAS JUMPING UP AND DOWN. I GOT A HUNDRED DOLLARS MAN. HUNDRED DOLLARS FOR WINNING MY FIRST PLACE TROPHY. I'M STILL SAVING THAT HUNDRED DOLLARS TOO. IT'S IN AN ENVELOPE. I'M NOT SPENDING IT. MY FIRST BILL FROM MY TRUCK. AFTER SPENDING THOUSANDS!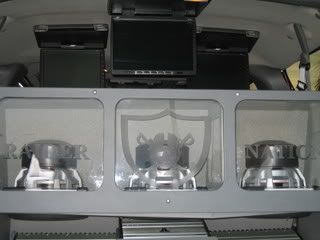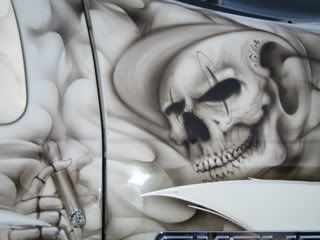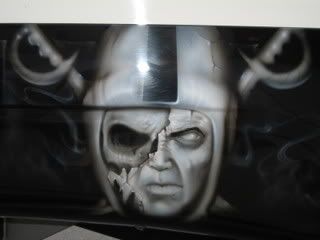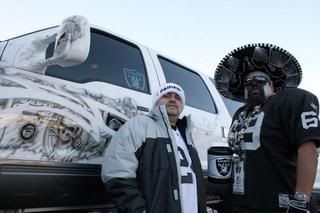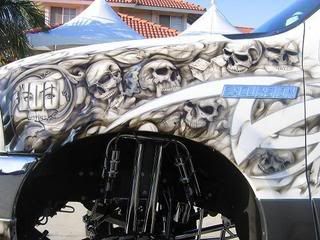 WHAT ARE YOUR FUTURE NEXT PLANS FOR THE TRUCK?
WELL... PAINTWISE WE ARE GOING TO ADD ONE MORE LOGO. I STILL DO NOT KNOW WHAT WE ARE GOING TO DO, BUT IT IS GOING TO BE SOMETHING SICK. LIKE THE ICING ON THE CAKE. I JUST HAVENT CAME UP WITH AN IDEA. WITH THE METAL WE ARE GOING TO DO SOME ACTUAL METAL CUTTING THAT WILL HAVE RAIDER SHIELDS IN THE UNDER CARRAIGE. I DIDN'T WANT TO SAY BUT WE ARE SUPPOSED TO BE GETTING CUSTOM RAIDER WHEELS DONE. I DO NOT KNOW WHAT THEY ARE GOING TO LOOK LIKE YET WE HAVE TO COME UP WITH SOME DESIGNS. BUT A COMPANY IS GOING TO MAKE ME FREE CUSTOM RAIDER WHEELS JUST FOR MY TRUCK!
HOW MANY RAIDER GAMES HAVE YOU TAKEN THE TRUCK TO AND WHAT WAS THE RESPONSE FROM THE FANS?
I ONLY GOT TO TAKE IT TO ONE. IT WAS STILL A WORK IN PROGRESS BUT I FELT GODLY. I FELT LIKE I COULD SPLIT THE RED SEA. EVERYWHERE I WENT MAN.
DO YOU PLAN TO CONTINUE TAKING IT TO RAIDER GAMES?
OH YEAH... I AM GOING TO TAKE IT TO AT LEAST FOUR THIS YEAR.
WHO WERE YOUR BIGGEST SUPPORTERS ON YOUR ROAD TO MAKING THE TRUCK WHAT IT IS TODAY?
MY WIFE AND MY FAMILY.
HOW HAS THE RAIDER NATION EMBRACED YOU AND YOUR TRUCK?
NOTHING BUT LOVE BABY. NOTHING BUT LOVE.
HAVE YOU EXPERIENCED ANYTHING NEGATIVE BECAUSE YOUR TRUCK IS RAIDER THEMED?
NO. I CAN HONESTLY SAY NO. LOOK AT MY TRUCK... THERE ARE NO SCRATCH MARKS... NO HATER MARKS. EVERYONE APPRECIATES IT BECAUSE OF THE WORK THAT I PUT INTO IT.
WHAT WAS THE HARDEST OBSTACLE YOU HAD TO OVERCOME WHILE WORKING ON YOUR TRUCK?
THE HEIGHT. LIKE I WAS TELLING YOU EARLIER... I AM STILL DEBATING IF I SHOULD GO HIGHER OR LEAVE IT AS IT IS.
WOULD YOU LIKE TO THANK ANYONE?
MY WIFE. ESPECIALLY MY WIFE. FOR PUTTING UP WITH ME SPENDING ALL THE MONEY THAT I SPENT AND ALL OF THE HEADACHES.
IS THERE ANYTHING THAT YOU WOULD LIKE TO ADD OR TELL THE NATION?
WHAT CAN I SAY MAN... THIS IS FOR YOU GUYS. MY FAMILY THE RAIDER NATION. MOST DEFINITELY!